it is so easy to get caught up at this time of year. with the decorations, the shopping, the parties, the hours in the kitchen. sometimes we are so busy that we forget to focus on the Reason.
at the beginning of this month, i am so grateful that i heard this talk to help me remember that i don't have to make christmas perfect. it IS perfect, and that has nothing to do with handmade gifts, the perfect tree, or an elaborate meal. christmas is Christ. here is my favorite part:
"Sometimes it seems that our efforts to have a perfect Christmas season are like a game of Jenga—you know, the one played with small wooden blocks that are precariously stacked up to a tower. As we try to increase the height of the tower, we pull out one wooden block before we can place it on top of the delicate structure.
Each of those little wooden blocks is a symbol of the perfect Christmas events we so desperately want to have. We have in our minds a picture of how everything should be—the perfect tree, the perfect lights, the perfect gifts, and the perfect family events. We might even want to re-create some magical moment we remember from Christmases past, and nothing short of perfection will do.
Sooner or later, something unpleasant occurs—the wooden blocks tumble, the drapes catch fire, the turkey burns, the sweater is the wrong size, the toys are missing batteries, the children quarrel, the pressure rises—and the picture-perfect Christmas we had imagined, the magic we had intended to create, shatters around us. As a result, the Christmas season is often a time of stress, anxiety, frustration, and perhaps even disappointment.
But then, if we are only willing to open our hearts and minds to the spirit of Christmas, we will recognize wonderful things happening around us that will direct or redirect our attention to the sublime. It is usually something small—we read a verse of scripture; we hear a sacred carol and really listen, perhaps for the first time, to its words; or we witness a sincere expression of love. In one way or another, the Spirit touches our hearts, and we see that Christmas, in its essence, is much more sturdy and enduring than the many minor things of life we too often use to adorn it.
In these precious moments we realize what we feel and know in our heart—that Christmas is really about the Christ.
Christmas and some of the cherished traditions of the season remind us that we, like the Wise Men of old, should seek the Christ and lay before Him the most precious of gifts: a broken heart and a contrite spirit. We should offer Him our love. We should give Him our willingness to take upon ourselves His name and walk in the path of discipleship. We should promise to remember Him always, to emulate His example, and to go about doing good. 
We cannot offer Him the gift of perfection in all things because this is a gift beyond our capacity to give—at least for now. The Lord does not expect that we commit to move mountains. But He does require that we bring as gifts our best efforts to move ourselves, one foot in front of the other, walking in the ways He has prepared and taught.
And what are the Savior's gifts to those who are willing to bring these gifts to Him?
This may be the most one-sided gift exchange in the history of the universe. The Savior's gifts to us are breathtaking.
This is a wonderful time of the year. It may not be perfect. But if Christmas can point our hearts toward our Savior, we can rejoice even in the imperfections of the season. Brothers and sisters, dear friends, may we always remember to bring gifts to Him who has given His all for us. May we always remember and be grateful that in the birth of that Child, the universe rejoiced. And may each Christmas season remind us to lift up our voices and fill our hearts with joy and gratitude that Christ the King has come! Christ lives! He is real. He is our Redeemer at Christmas and always. "
deep breaths.
read the full talk here.
my friend recently shared a little saying with me that i hope will become my christmas mantra. i promise i am not *perfect* at this, but i am trying, and that is all He asks.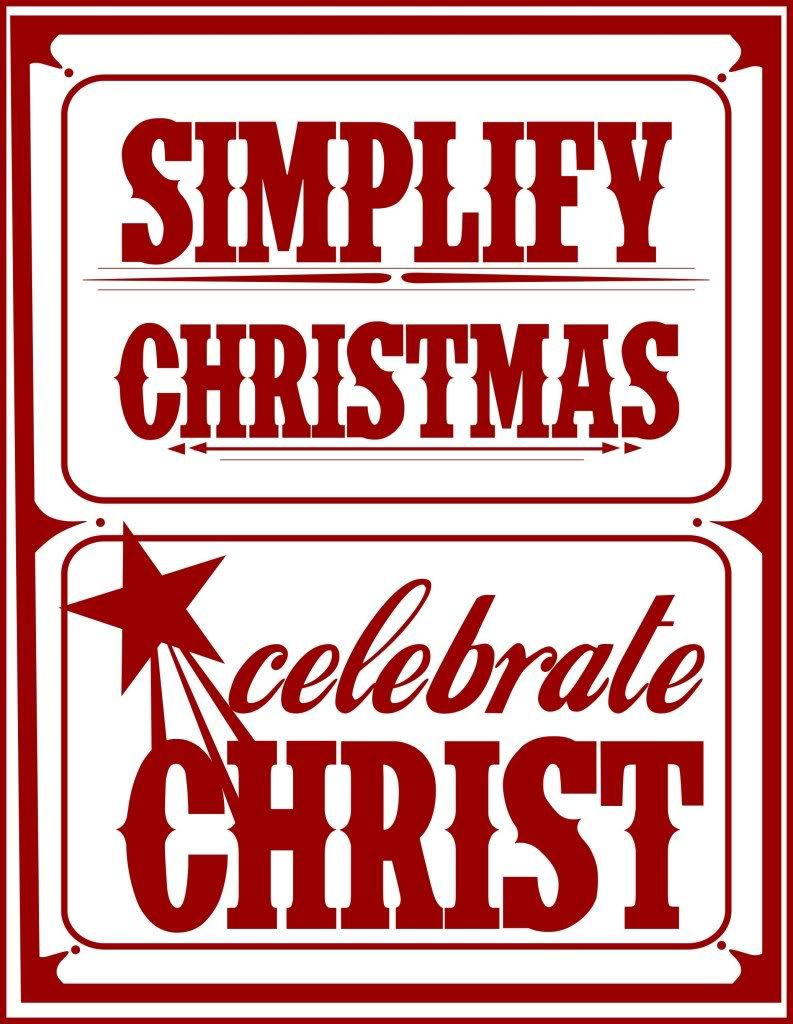 click here for an 8×10 PDF printable version(with a black and white option as well): simplify christmas
merry christmas from me to you!