"until one is committed, there is hesitancy, the chance to draw back, always ineffectiveness. Concerning all acts of initiative (and creation), there is one elementary truth the ignorance of which kills countless ideas and splendid plans: that the moment one definitely commits oneself, the providence moves too. A whole stream of events issues from the decision, raising in one's favor all manner of unforeseen incidents, meetings and material assistance, which no man could have dreamt would have come his way. I learned a deep respect for one of Goethe's couplets: 'Whatever you can do or dream you can, begin it. Boldness has genius, power and magic in it!'" W. H. Murray 
one of the questions i hear most often goes a little something like this:
"how can i take my shop/business…
…to the next level?"
…from a hobby to a business?"
…from part time to full time?"
there are a lot of potential answers to these questions. lots of ideas to share, strategies etc. and we will get to some of those later.
however.
there is something much more important that you MUST do first.
decide.
decide.
decide.
now it's time for more hard questions. ( i apologize in advance for going all drill sergeant on you.)
ok, hold up.
i feel a reason to explain myself before you start feeling like i'm yelling at you.
we (as humans) are really good at making excuses for why we are not living up to our potential and why we are not achieving our dreams. i really hope that you can answer these questions honestly so that you can get out of your own way! we are looking for change, for success, for dreams to take flight! so, take a deep breath, and get ready to inspect your intentions closely and unabashedly.
are you ready? (breathe in, breathe out.)
what DO you want out of this? is it a hobby? is it a way to get your creative juices out? is it an experiment? is it a way to drive your husband nuts? is it "me time" ? is it a justification for your fabric/craft supply hoarding tendencies?
WHAT IS THIS?
is it a business?
have you actually decided? if you are calling it a business, but treating it like a hobby, it will pay you like a hobby.
promise.
however, if you decide it is a business, you might actually get somewhere.
now, i know– not everyone is ready to treat their shop like an actual business. but, i am guessing that if you are still reading, you want  to have a real thriving business. so, continue…
be honest with yourself about your time commitments. i know working from home sounds so convenient, and certainly there are things about it that are wonderful. i can stay at home with my kids. i can work in my pjs. but i assure you that i spend more time working for myself than i ever did at a 9 to 5. you MUST have the time to put into it. have you considered whether or not you have the time to invest in your business as it is to make it into a thriving, growing, profitable business? if you have the time, and now is the right time, awesome. check, check. if you don't, right now may not be the right moment for you. it might be the WRONG time for you. and that is 100% ok. you can come back to it when you do. but, own that fact. trying to commit to something halfway now will just frustrate you and everyone around you.
do you have the resources? that could mean $$, but not necessarily!! do you have access to the supplies you need to be successful? to a helpful babysitter if need be? to mentors, support systems, web designers, etc? if yes, congratulations. fantastic! you are well on your way.  if not, that's ok — all of those things can be found. but if you want to take it up a notch and get serious about being a business, gather your resources and remove the excuses. step out of your own way.
do you have the support of your loved ones? does your husband/boyfriend/mom/sister/roommate/friend think you are a genius? or just crazy? are they willing to encourage you when sales are down or help you package and ship when sales are up?
having a supportive husband through the last 3 years has made all the difference. honest. he makes up for my weaknesses in so many ways. and a supportive extended family and friends have been the cherry on top. even if you have great relationships in your life, you may want to consider the timing for your loved ones as well. for instance, if i were to start a new business at the same time that my husband was just up for a promotion and was working super long hours, the timing might make it harder for him to be as supportive while he is already stretched thin. i would not encourage anyone to take this hard journey without that support. talk to your loved ones and include them in your decisions on where you want to go with this. make sure you can be on the same page and can count on their support. you will need it.
so, if you have decided that now is the time, you have the resources and support you need,
 this is why a lot of people get stuck in hobby land. they're just making stuff and listing stuff with high hopes, but not a lot of commitment to actually make it work. can you stick to a budget, put in long hours, be confident in your product and your role as a business owner, not be too emotionally attached to products that aren't selling, be decisive,  and really go for it? can you keep moving forward, try again, and stand back up every time you fall? can you let go of the safety net of "if i don't sell anything, oh well! it's just something i love to do!" ? you must be willing to approach it as a business if you want to get paid.
i know that safe place. that if you don't risk anything, no one will ever know that you failed. that you can spare yourself the shame of really going for it and putting everything into it and falling flat on your face. i know it feels soft and cuddly and warm and safe to stay in that place. but success from that place? rare. possibly non-existent.
to be honest, my circumstances were a little different here. i had greater things to fear than putting myself out there and failing. i had to fear how we were going to pay our rent and what would happen if this DIDN'T succeed. my story started in desperation, and really, looking back, i am glad it did. i never got stuck in hobby land. i never got paralyzed by fear. i couldn't. i didn't have that option. and if you ask me, i'm not sure i would have ever reached this point if i hadn't been operating on such a "do or die" mentality.
now, to the majority of you who are not relying on your shop income to pay the rent: there is no reason you can not adjust your mentality to be just as effective in powering you through to success. let go of the fear, and embrace the opportunity. the only way your business will change, your sales will change, your success will change is if YOU change your mind about it. 
i know that this post has been a little bit of tough love. i hope you don't think that i'm being harsh, but that you take these questions seriously and use them to change your mind about how you are working. are you really ready for this? you say you want it, but do you really? and if so, what is stopping you then? if your shop is not making you money, it is taking your time away from another area in your life. and to me, that sounds pretty silly. we don't have enough time on this earth to dilly dally around, so do yourself a favor: make your decision, and make it quick. the success lies first in the choice.
need some day to day motivation? i made a handful of printables for you that will (hopefully) kick you in the pants when you need it most!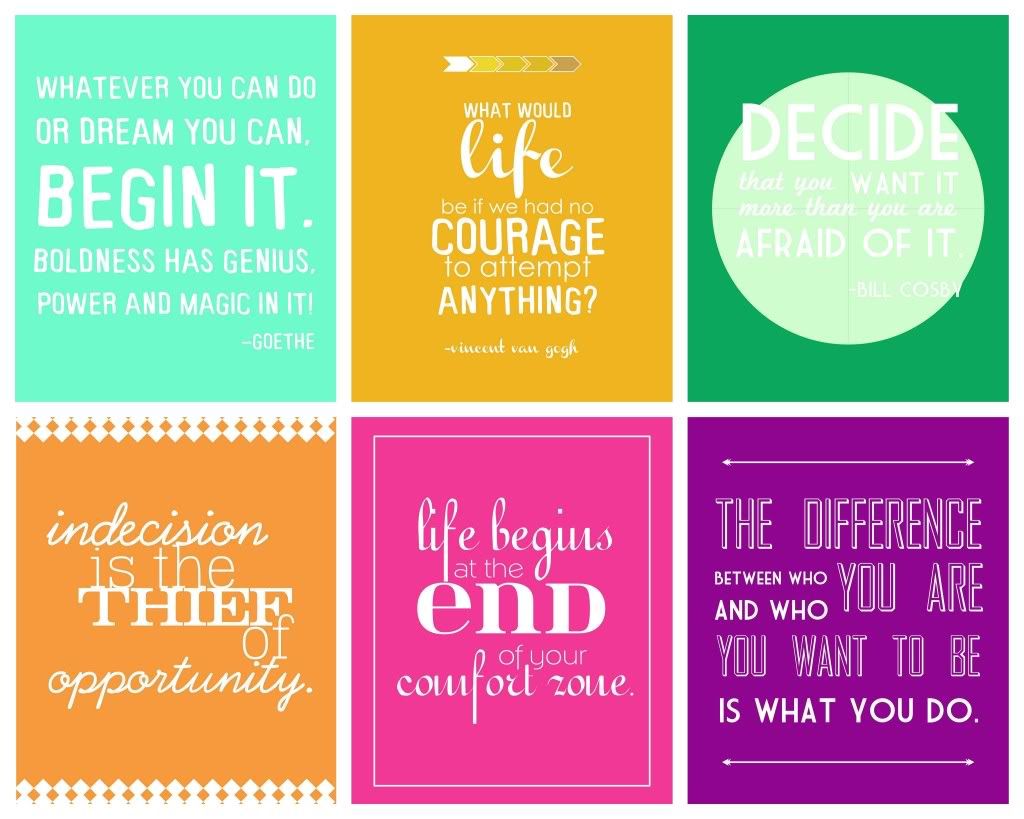 love you, mean it.
You Might Like These Posts Too!: