hello friends! thought i would link up with sweet lisa today and say hello to a few things this week. want to join me?
hello, neglected little blog :(
last week i was in some kind of funk. and while there were plenty of things to write about, i just didn't want to. and so i didn't. (sorry!)
but, it's a new week, and i feel it will be a good one.
hello, shop updates!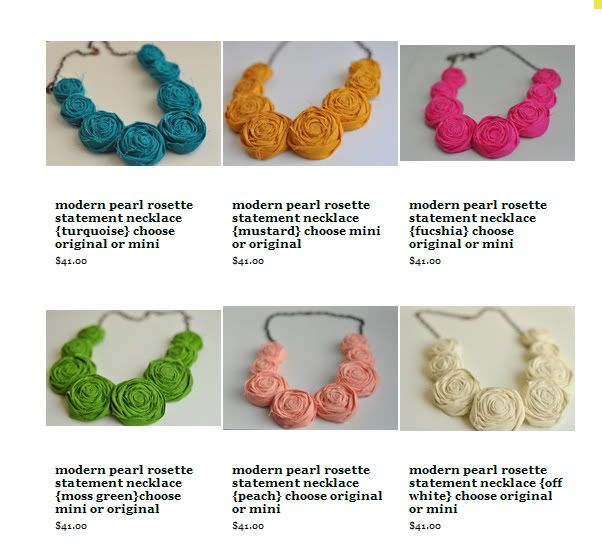 it feels so good to start off the week with a full shop! what color do you have your eye on?
hello, new listing!
i'm excited to offer a new option to ready to ship. each week i will add a handful of made to order options. if the item you've been waiting on is sold out, this may be your chance to get it. some items will have a $2 premium to be added to the queue, and all items will have a 2 week processing time. but if you must have that accessory NOW, i'm happy to offer this option.
hello, hunger games obession.
i only started the first book last week and promised myself i would only read it at the gym. hence the 97 minutes on the treadmill!! loved the book, and hope i can sneak away to see the movie sometime soon. now i MUST get my hands on the next 2 books before i go MAD!
hello, spring colors!
i'm having fun experimenting with a few new colors that will hit the shop soon. i've been hesitant about the neon craze, but i might be partially convinced with these 4 hanging around my desk all week.
hello, morning runs.
after a month of chaos, i am desperate to not only get back into the routine of exercising daily, but also to renew my love of running. i am not quite there yet, but 5 miles along the coast yesterday was a really good start. p.s. hello, san diego. i love you.
hello, 7 years.
today i'm reliving the most perfect wedding day in my mind and wondering where the time has gone. 7 years ago, we had no idea what we were getting ourselves into, but i am so blessed to be in the thick of it with this guy. our life looks so different now than it did that day, but what an amazing life together. i love him more now than i could have ever imagined 7 years ago.
i posted this 3 years ago, and i just can hardly believe that it is STILL true today:
still feel like the lucky one
still get giddy when i see you
still consider you my best friend
still know i'm a better person because of you
still look forward to many adventures
still love you like i loved you on that day (only more)
still can't wait for eternity
still sleep better next to you
still wake up happy next to you
still think you are perfect for me in every way
still admire the kind of husband and father you are
still dare to dream with you
still know on march 26th i made the most important and best decision of my life.
still love you madly.
happy anniversary, loverly.
what are you saying hello to today?
You Might Like These Posts Too!: