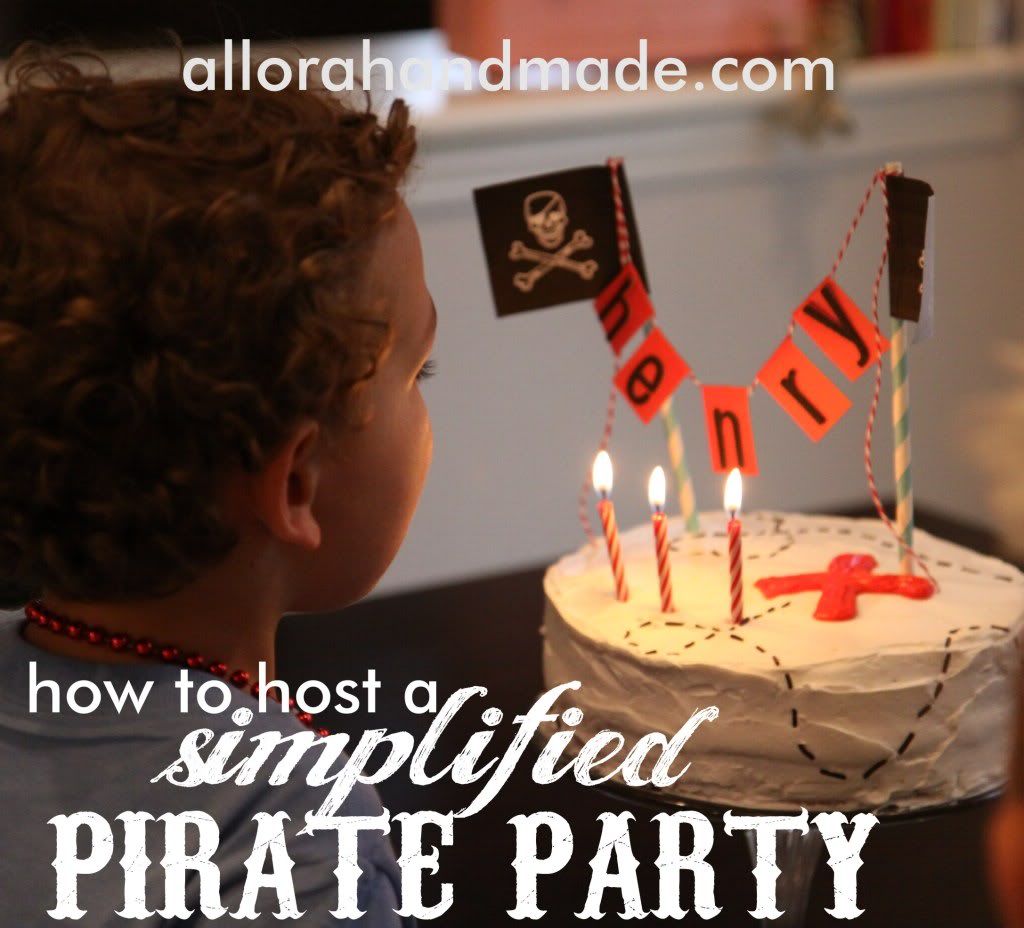 are you ready for part 2 of henry's simplified pirate party?
as i mentioned in part 1, henry's 3rd birthday was over a month ago, and while i love a good party, i get too overwhelmed when things get complicated!  so here are some of the details that made this party so much fun.
if you want details on making a simple pirate cake, be sure to check out part 1! i have also updated that post with some of the info on where i got supplies and simple decorations, so be sure to check it out!
with kid parties i always worry about what we are going to DO with all these kids running around. more often than not, we have family and good friends there and the adults just want to socialize! but unstructured time with small children doesn't always work well, so we had a plan for our pirate party that included a few low-key, easy prep activities.
the first was a simple pirate craft. we chose: pirate spotting scopes!
to make pirate spotting scopes, all you need is:
empty paper towel roll tubes (or an empty wrapping paper roll cut into smaller pieces)
pirate stickers
printed out pirate flags (printable available here)
tape or glue
cellophane (clear or colored) cut into a 3 inch circle
patterned scrapbook paper pre-cut into 2 inch x 5 inch strips (we used black and white striped)
markers or crayons
the only thing we had to buy from this list of items is the pirate stickers – which we wanted to include in goody bags anyhow!  i also cut the paper strips, pirate flags and cellophane circles ahead of time.
super simple, but here's what we did:
1. help the kids cover one end of the tube with the cellophane circle and then tape the edges of the circle to the tube.
2. take your patterned scrapbook paper and wrap it around that same end of the tube covering up where you just taped the cellophane to the tube.
3. let the kids decorate the tube with stickers, glue pirate flags on there, color with markers or crayons, etc.
see? i told you! SIMPLE. but it was such a huge hit. the kids loved decorating their spotting scopes and were even more excited about running around with them!
the hit of the party BY FAR was the treasure hunt!
i highly recommend it! your kid will think you are the COOLEST.
 the concept is simple. (yay for simple!)
set up a treasure hunt with visual clues that will lead the children around the house (or park, or wherever you are) in search of the next clue. since none of the kids that attended our party are reading age, we took pictures of different places in our house where the next clue was hiding. in each of those spots they would find a new map leading them to the next spot. finally, they found the last map that led to the X marks the spot. (some examples of pictures we used: the oven, the dryer, a toy cupboard, etc.)
we happen to have an antique chest that we use as a coffee table that made the perfect treasure chest. it was there all during the party and the kids were so excited to find out that all along, there was treasure hiding right under their noses!
by the time the kids had run around the whole house finding clues, their excitement could hardly be contained when that chest was opened and inside they found their goody bags and enough gold chocolate coins to feed a small army!
here is what each of the goody bags looked like:
each child got:
2 pirate tattoos
1 eyepatch
2 necklaces
1 sheet of stickers
and gold coins
1 ring pop
cost: about $2/child
i printed out mailing labels with each child's name and a skull and cross bones to label the goody bags and used my product packaging (flat cellophane bags) to hold it all together.
again, so simple, but such a hit!
i would recommend saving the treasure hunt for the very end so that the kids can get their goody bags at the end. we did it before opening presents, and realized later we wish we would have waited until the end.
and that's that! see? simple is good! we can do simple.
right??
can i get an "ay, ay matey!"??
You Might Like These Posts Too!: