have you heard of fresh produce? I didn't know much about them until a sweet package full of color arrived on my doorstep a few weeks ago. come to find out, their message is one that i resonate with.
from the fresh produce website:
"The heart of the Fresh Produce is rooted in the positive impact of color. We love color and want our customers to light up the room in our clothes. From casual tops and feminine dresses to decorative scarves and stylish pants, Fresh Produce is dedicated to creating feel-good clothes women want to wear every day.  "
LOVE. you're speaking my crack-a-lackin' language!
i was lucky enough to receive the cafe wrap dress in tropical punch.

now, here's the deal. i am a bargain shopper. i buy clothes at target. i buy things on sale. i rarely "invest" in clothing. so, for me to pay full price for a dress, i need to know that it can be a few things: versatile, comfortable, and flattering. and even thought this dress is BRIGHT pink (which i LOVE by the way), i was determined to prove it can be worn in many ways. you ready to see 1 dress 7 ways?
1. fun and flirty: with a cardigan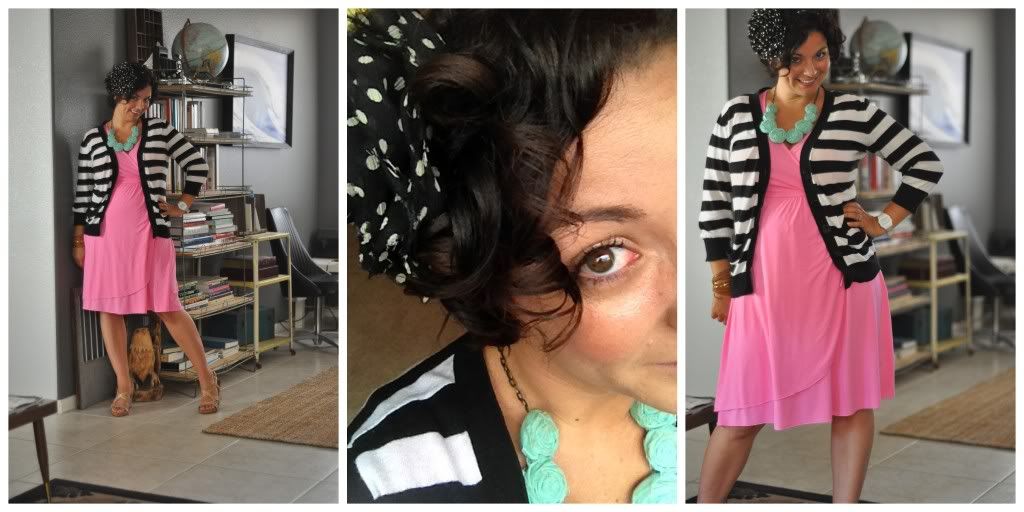 dress: fresh produce
striped cardi: banana republic
polka dot fluff: anthro
nude wedges: nordstrom rack
modern pearl in pacific: allora handmade
bracelts: stacy lynn, spiffing jewelry
2. all business: with a blazer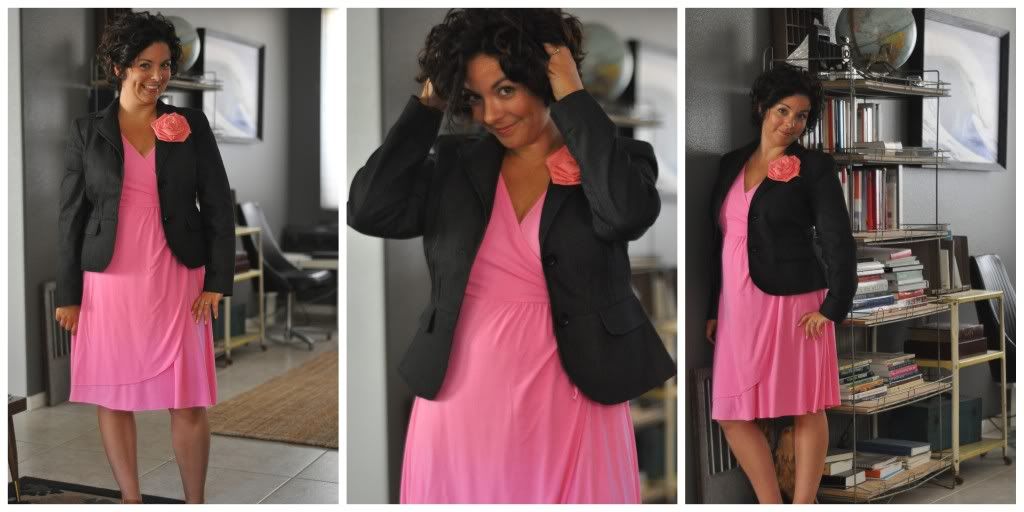 dress: fresh produce
blazer: ann taylor loft
flat rosie: me
3. girly girl: with layered lace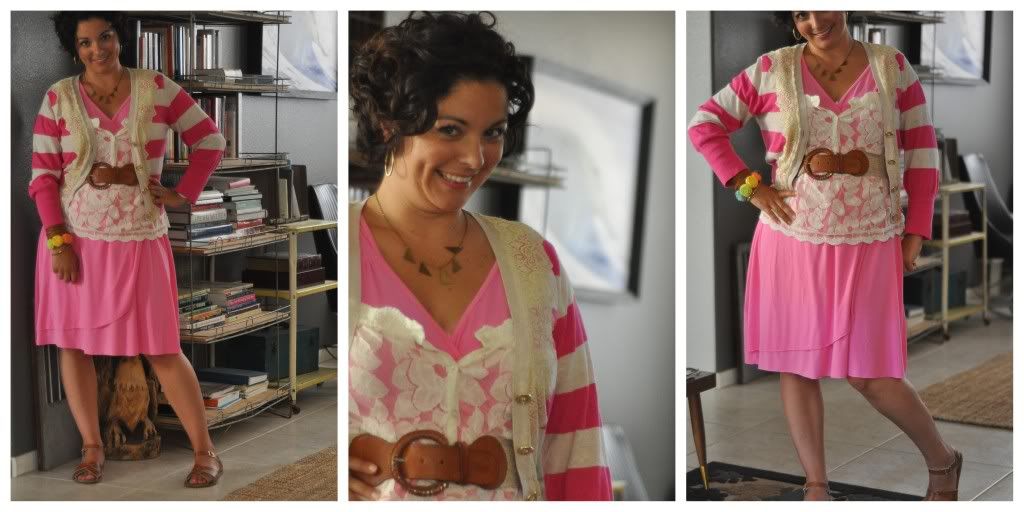 dress: fresh produce
lacy shirt: tjmaxx
belt: anthro
stripey/lacy cardi: nordstrom rack
sandals: saltwaters
rainbow bright bracelet: allora handmade
necklace: nikki lorraine
4. casual on the go: with a pullover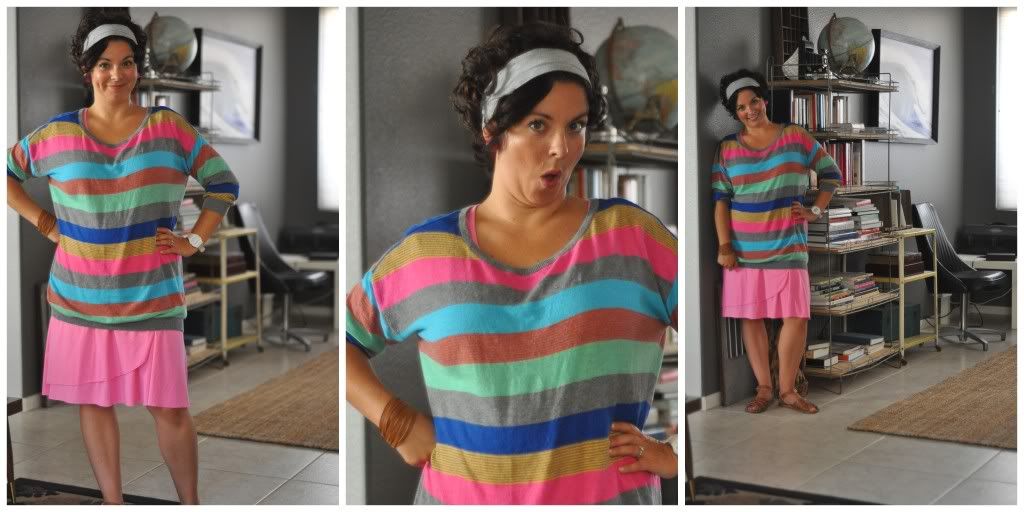 dress: fresh produce
striped pullover: h&m
bracelet: stacy lynn
earrings in fuchsia: allora handmade
5. ombre chic: with a layering skirt underneath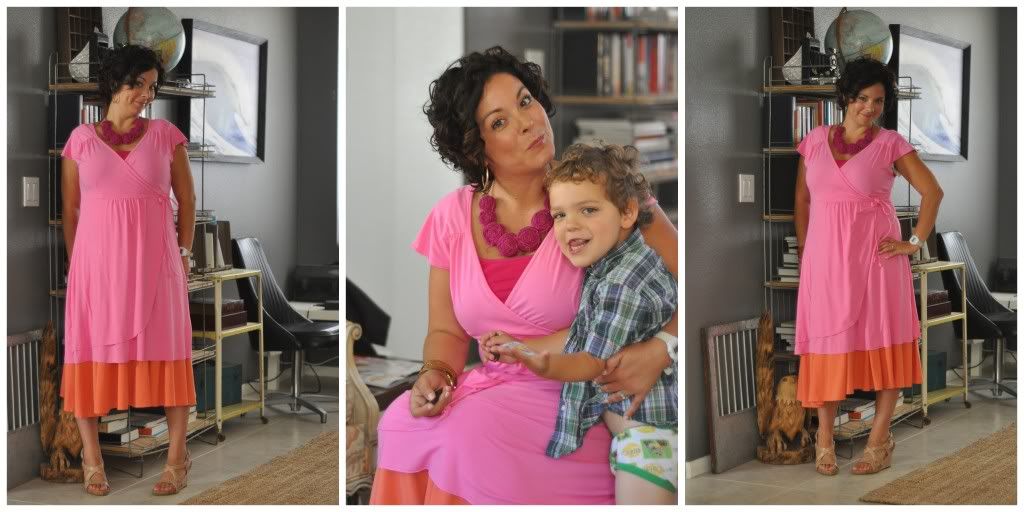 dress: fresh produce
tank: target
skirt: thrifted (j.crew)
modern pearl in berry: allora handmade
6. bright and bold: with a blouse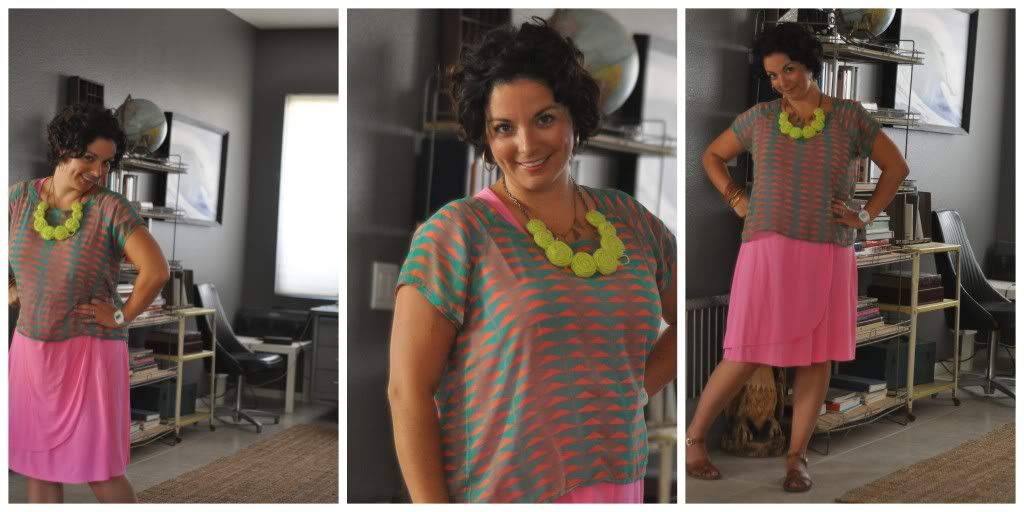 dress: fresh produce
printed blouse: nordstrom rack
modern pearl in lime: allora handmade
7. feminine floral: with a floral skirt layered on top
dress: fresh produce
floral skirt: old navy
belt: anthro
felt rosie: allora handmade
necklace: nikki lorraine
so, i think it's safe to say: VERSATILE!! and comfy for sure. the quality is incredible, and i know i will get so much wear out of this dress.
there are tons of great comfy and colorful options on the site. (check out the spring and summer dresses!).
i have my eye on this dress that looks so similar to my coral thrifted j.crew find from look #5 above. i've also been eyeing this maxi skirt and think it would be such a good staple for any wardrobe. with so many options and so many beautiful colors, i'm certain i'll be back for more.
now, i have a question for you. can you wear one thing 7 ways? should we have a linky party? let me know if you are up for the challenge!
Fresh Produce was kind enough to send me this dress to review, but the opinions expressed on this blog are solely my own.
You Might Like These Posts Too!: