it's been a while since i've participated in instafriday! that certainly doesn't mean i am any less addicted to instagram! it is my social media vice of choice :) i don't know about you, but our summer has been nonstop! here's a peek:) on our way home from wyoming, hubs dropped me off in the middle of nowhere to meet up with my highschool girlfriends for a weekend bachelorette party in palm springs! It was kind of nuts to go from one trip straight into another, but so much fun to celebrate our friend Suedy and have some girl time!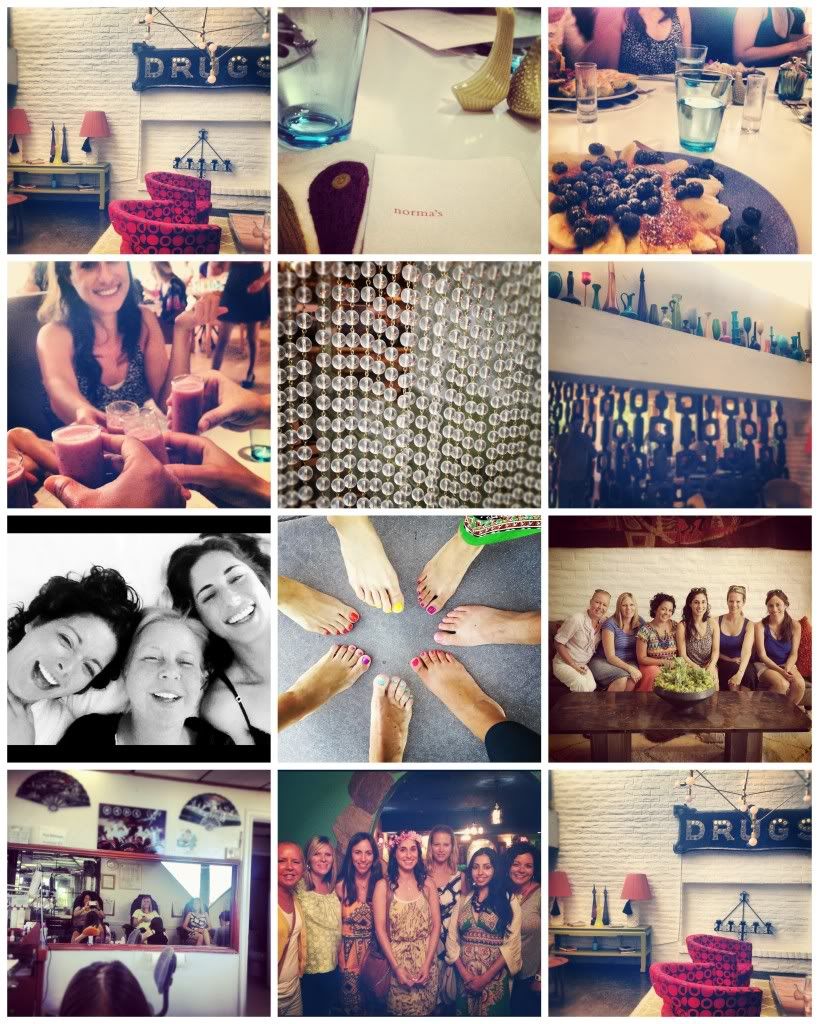 l to r, top to bottom: the parker hotel. brunch at norma's. creme brulee waffles. toast to the bride. amazing beaded curtain at the parker. loved this hotel! laughing with sharlie and suedy – like we were back in 5th grade. a rainbow of pedis. the girls after brunch. getting our foot rubs. at dinner (don't ask what suedy is wearing on her head!)
these are a few snapshots of our day to day. it isn't all fun and games around here- the hardest thing for me this summer has been finding a way to balance out work and play
.
baby headbands getting ready for uniqueLA. finally left the house one day at 5:30 in search for something for dinner. spotted this pic from when we were dating on hubby's desk and got all teary thinking about how far we've come. costco run without kids = super good day. cutting up fruit while jeannett has her c-section. goodwill frames and spray paint makes for a happy project. henry went all kriss kross on me. love, love love freska mangos from costco. took my lovely friends (or their faces at least) with me to LA. the car all packed and ready to go to the show. on my way bright and early. the boys wake me up looking at car magazines. #bedheadchampion. dots, dots, stripes and lace. giggled the whole way through this dentist appointment — they just looked so adorable on those giant chairs! amazing foodtrucks that came out for uniqueLA.
after a really long week prepping for uniqueLA and then spending the whole weekend up there without my family, i decided we just needed to spend a lot of time playing this week. and play we did.
at the park showing off for the girls. the beach is such a win-win… i'm in heaven, they're in heaven. henry in mama's glasses. eat-it-all at chick-fil-a. it's a lunch date with his favorite girl. playing in the waves with dad- after 7 hours at the beach, he joined us for the last hour.
i think a highlight of my summer will be the 8 hour day at the beach. we had so much fun we stayed long enough for clint to meet up with us too. i may remember that day forever! and may try and repeat it as often as possible :)
one last thing, will you be anywhere net long beach this weekend? stop by the Penelope Lane boutique and say hi!
Happy Friday!