today i am finally going to share with you how to make a simple photo collage using picasa. picasa is a photo organization tool/basic editing tool from google, and i find it to be really user friendly and easy for the basics. my collages for instafriday or what i wore wednesday are almost always made this way because it's just quick.
i must say, i use a PC (womp, womp…) so i'm not sure the exact protocol on a mac, but i know there is a mac version, so i assume the process is the same. so let's get to it!
1. first, visit picasa.google.com and download picasa to your desktop. you can make this your main platform for storing photos if you'd like ( i do) and then when you plug in your camera, phone, or pop in a memory card of any kind, you can opt to transfer all of your photos into picasa.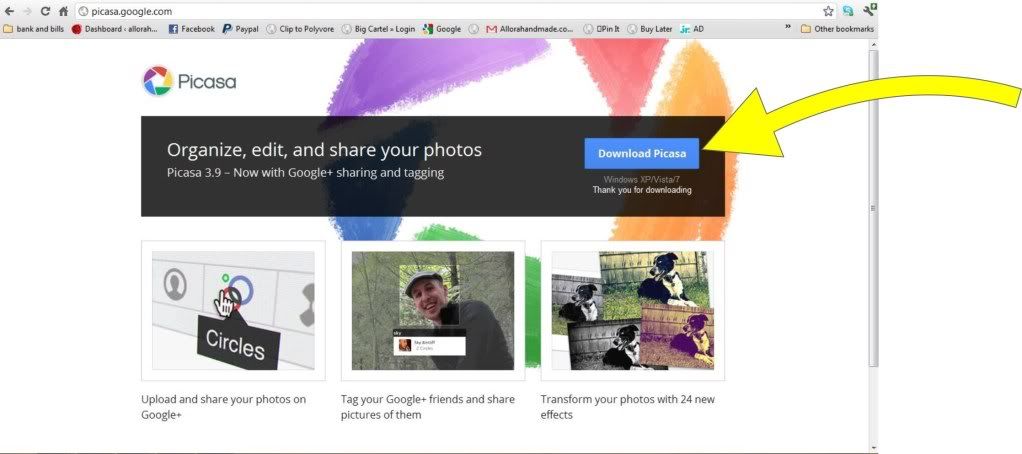 2. once you've gone through the download process, you'll find this cute little icon on your desktop. (is my desktop wallpaper making you ooh and ahh?? :) click on that colorful little wheel thingy.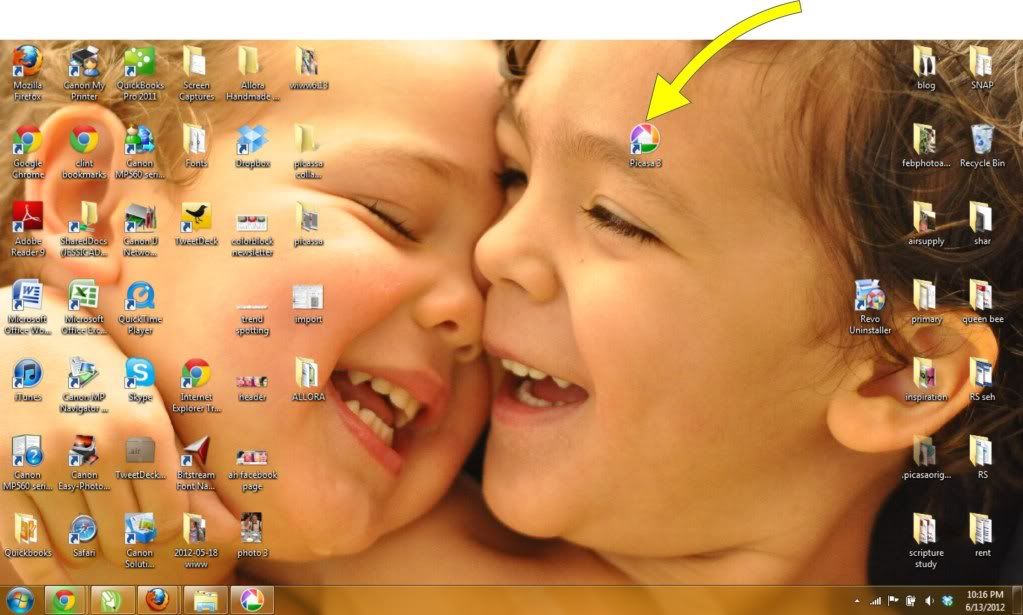 3. i installed picasa shortly after getting my computer 3 or 4 years ago, so i have a million pics on there, but it will pull up all of your pictures by date. if you want to import more pictures (say from your phone for instafriday), make sure the device is connected via usb and click that little "import" button on the top left.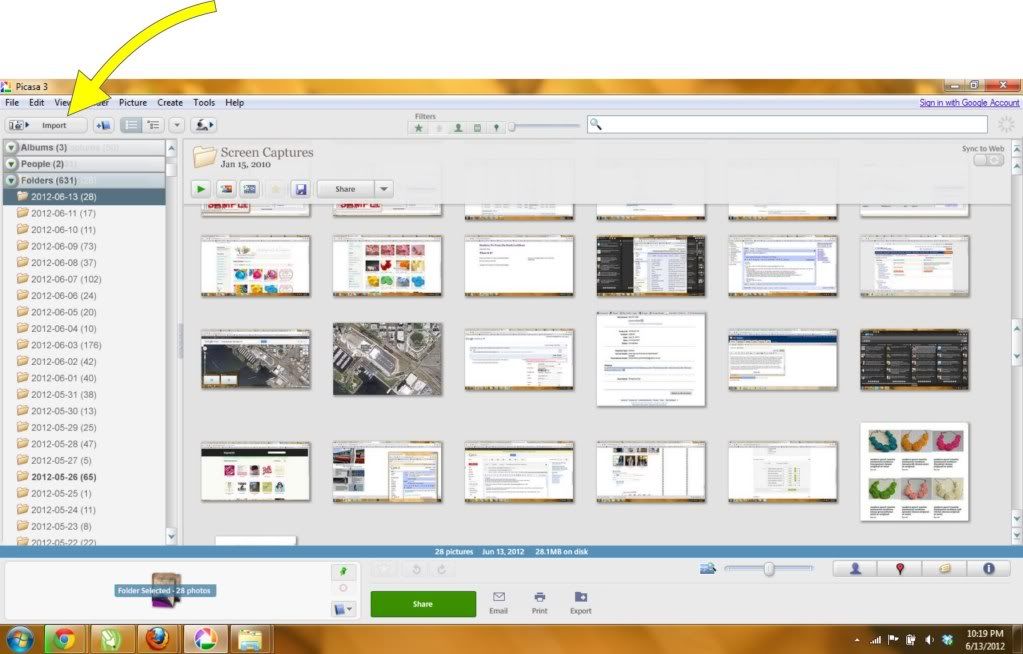 4. after clicking "import," your pictures will start to load. if you are a bad girl like me and never delete pictures from your phone, it will take some time to load the 1236 files – it loads all the pictures on the device, even if they've already been saved. let them load, and then select the photos you want to import by clicking on them (holding down ctrl or shift to select multiple pictures) and then clicking the button on the bottom right (that somehow got cut out of this screenshot!) that says "import selected" or "import all" if you want them all.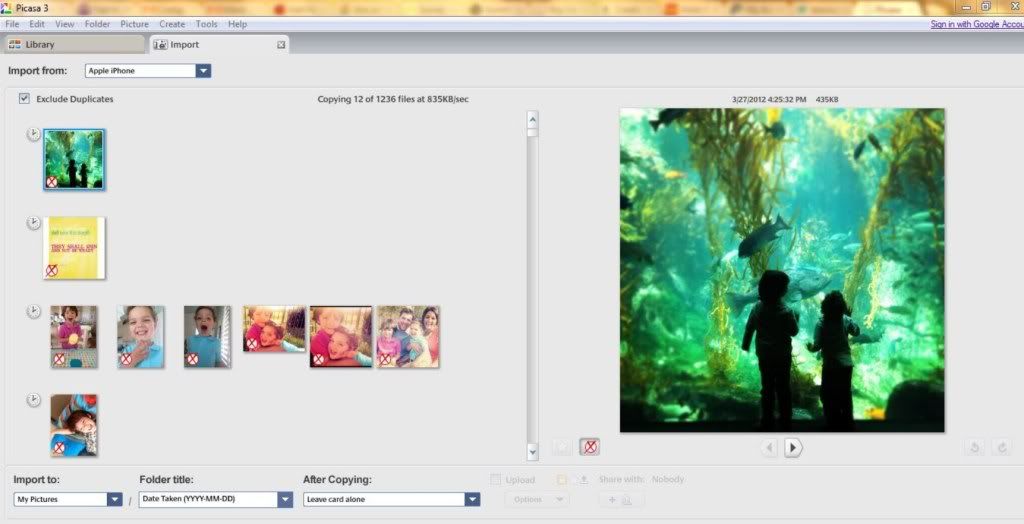 5. once the import is complete, you will see that the dates the newly imported photos were taken will now be added to the folders on the far left side. now you can go about selecting which pictures you want to use in your collage. click each photo to highlight it with that blue box,

 and then select the little green pushpin button down at the bottom. do that with each picture you want in the collage. this will pin them and hold them in place to be used later. you can see the one i held in the bottom left corner. in the next screen shot you can see i have several photos in that same little waiting spot. (note: if you are doing a collage for instafriday, instagrams show up with a little red geotag locator pin in the bottom right corner. can you see that little thing on the pic that i'm selecting? makes it quick to pick them out of the lineup!)
once you have all of your photos chosen and pinned, select from the top menu bar "create" and then "picture collage":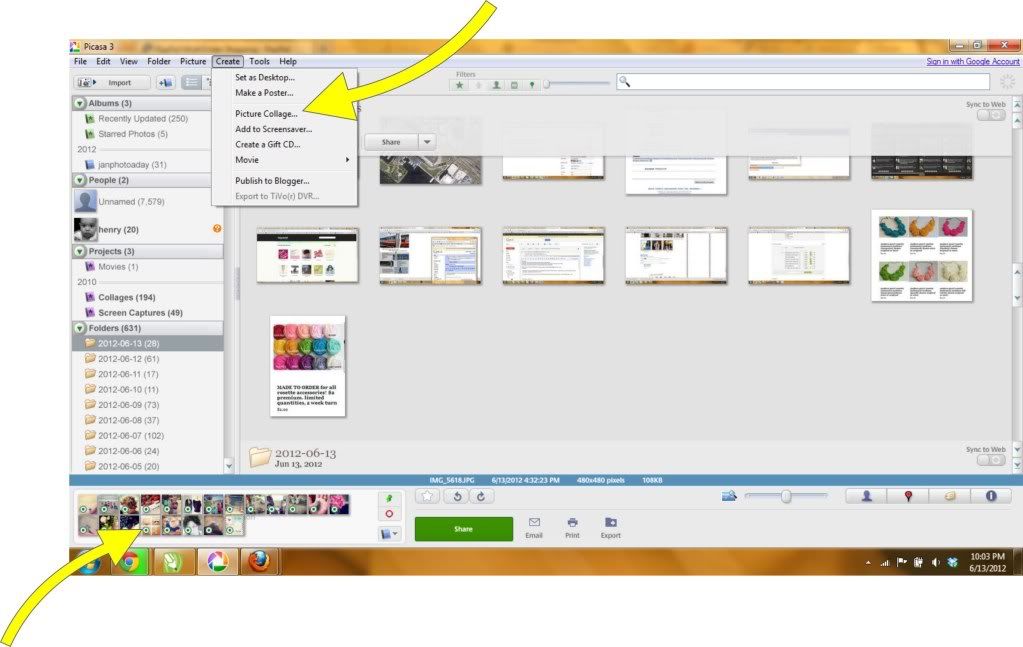 a collage will automatically be made using the pictures you have pinned. there are several ways to modify this collage, so don't worry if at first it isn't looking exactly how you want it.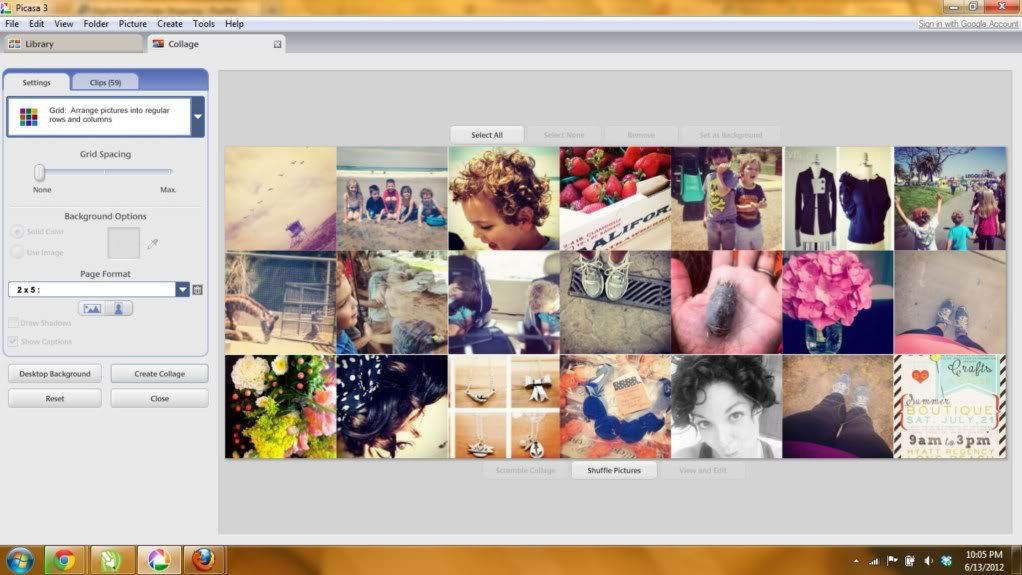 here you can see that there are different settings for types of collages. i like to use grid collages for things like instafriday, but you can also click on that little white down arrow to change that up to things like a mosaic collage (i use this kind a lot on wiww), a picture pile, a contact sheet, or even multiple exposures.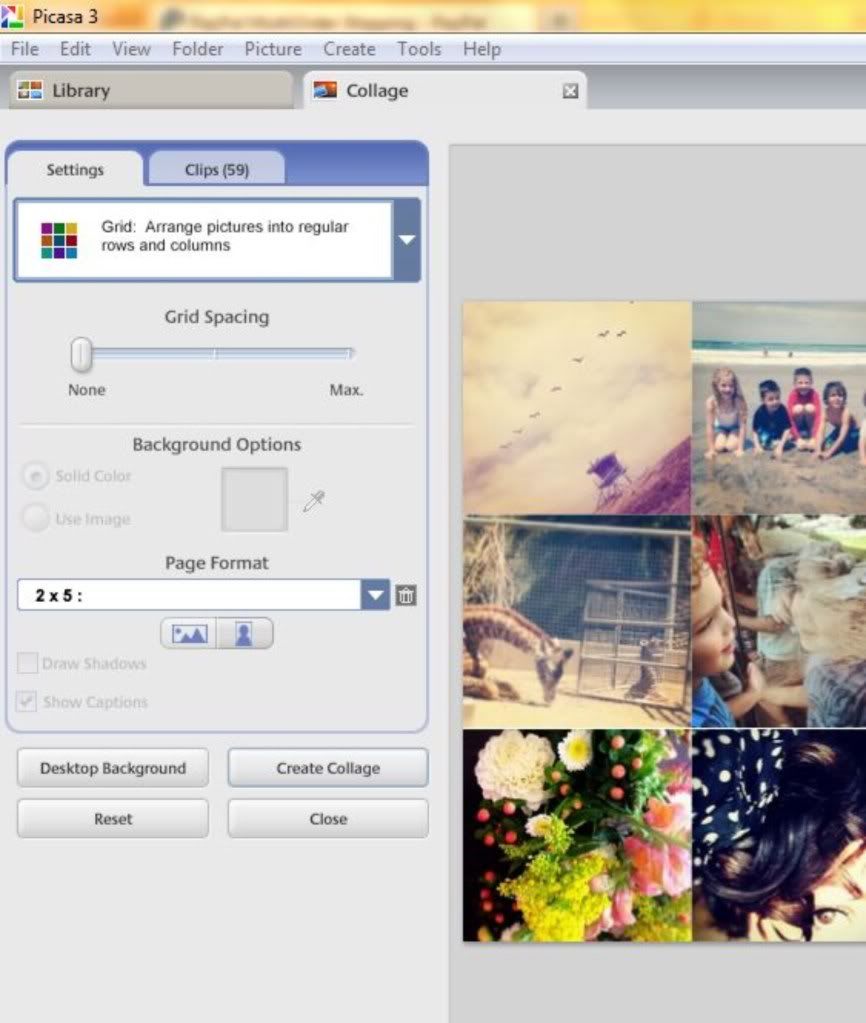 here you can also decide what size and orientation you want your collage to be. keep in mind, the collage will automatically repeat pictures if you don't have an even number of pics that will work for the size collage you want. for instance, if you have 21 pictures (which is what i started out with) 2X5 is a great size because you can have 3 rows of 7 pictures. however, if you change that size to 4×4, it won't work out very well – some repeat pictures, pictures will squish funny, etc. you'll have to play around with this to get familiar with what works well. you can also add a custom aspect ratio if you want.
make sure to decide if you want spaces between your photos as well. you can adjust that right here.

you can also drag an drop the photos within the collage if you don't like the order they are in. move them around, play with it!
once you are satisfied with the way your collage looks, click on the button on the bottom left that says  "create collage."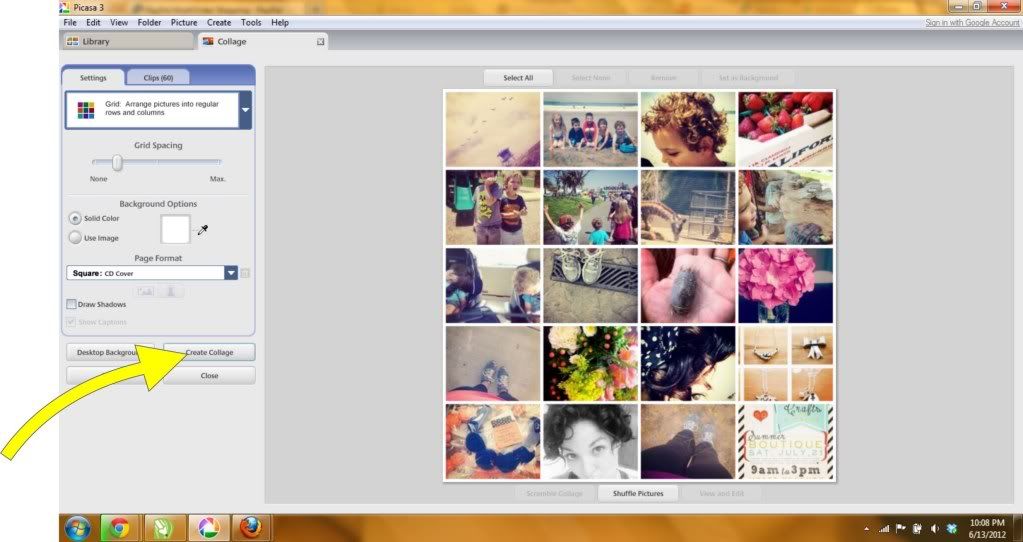 it will then show you that the collage is in progress…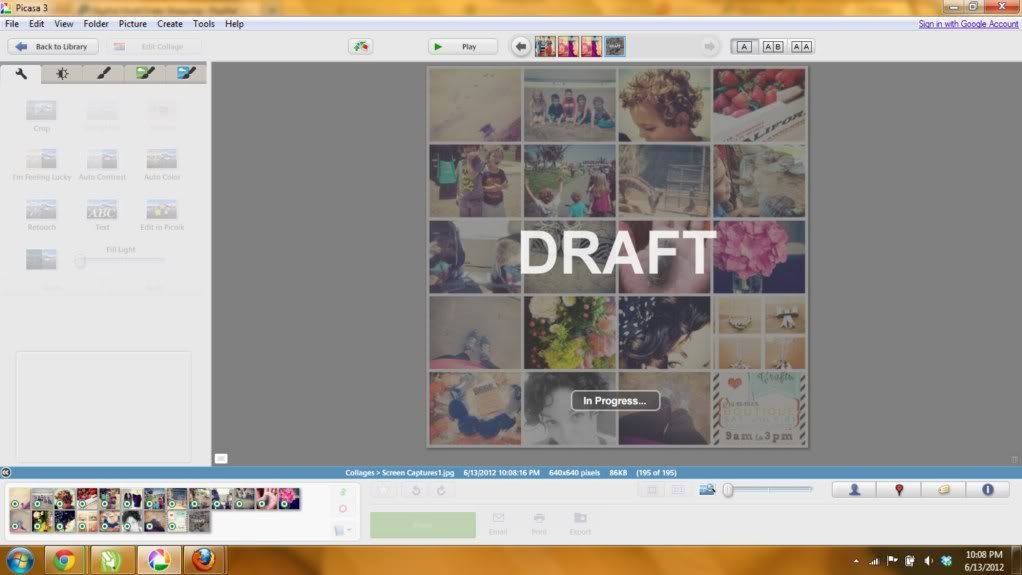 and voila! you have a collage! this next screen is what pops up when the collage is complete. it gives you options on the right to edit your collage just as you would a photo. you can change the brightness, saturation, make it black and white, etc. my favorite tool however is text. if you want to add words to your collage, or number the photos, just click on that little text button…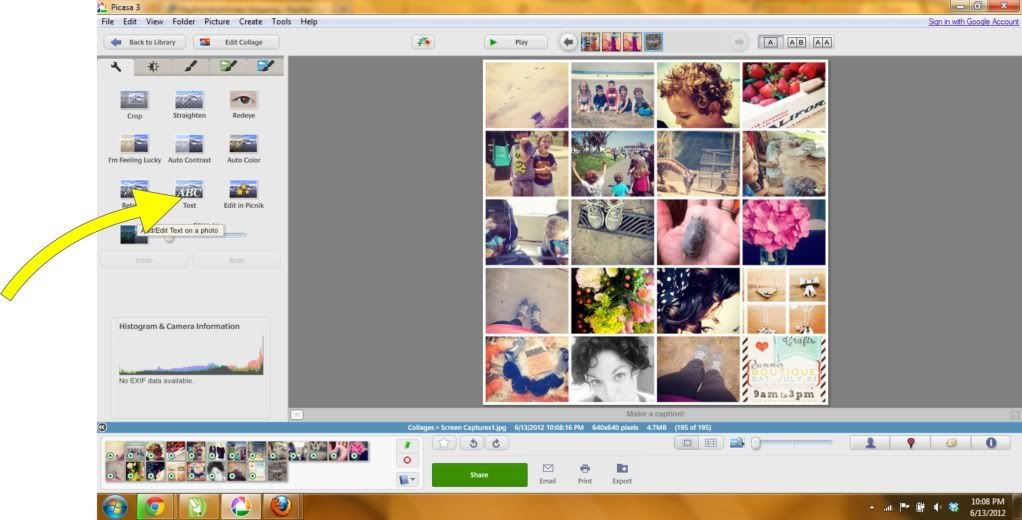 choose your font (it uses the fonts you have on your computer – not just generic ones), your text color, the size, etc. click the mouse where you want to type, and use the gray box there to move the type around as needed.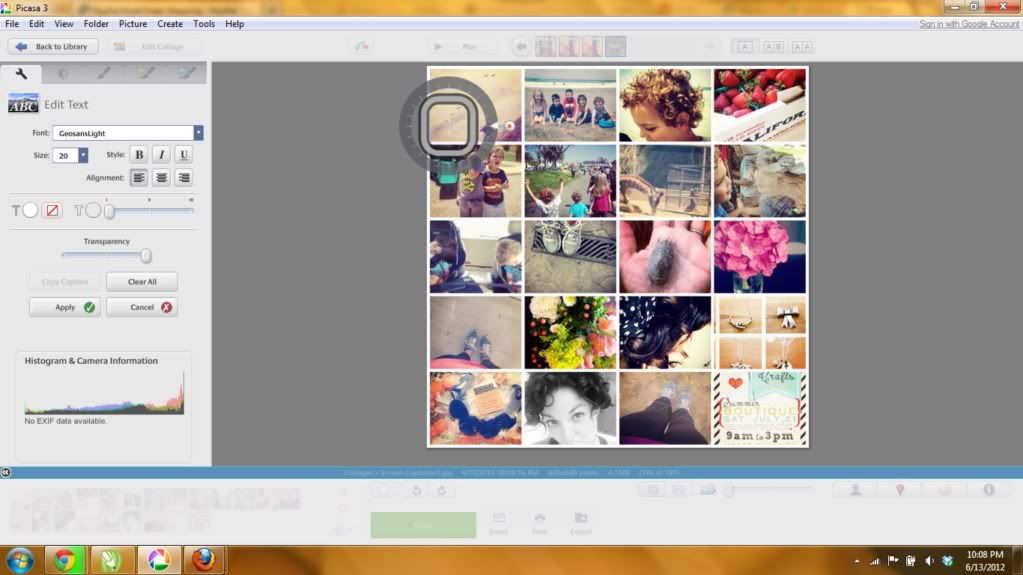 i usually type out everything i want on there (in this case numbers 1 through 20) …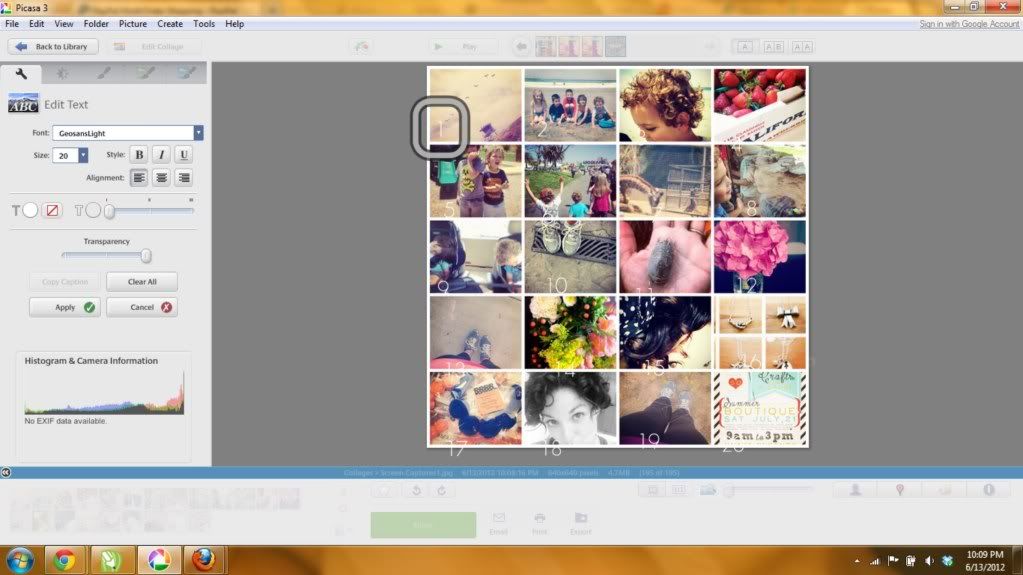 and then go back afterwards to move them around and line them up to look nice and pretty. that might be my only complaint about picasa- i wish there was a way to line text up perfectly and accurately, but you just have to eyeball it and not obsess over millimeters. when you are satisfied with the placement of the type, click on that button with the green check mark that says "apply."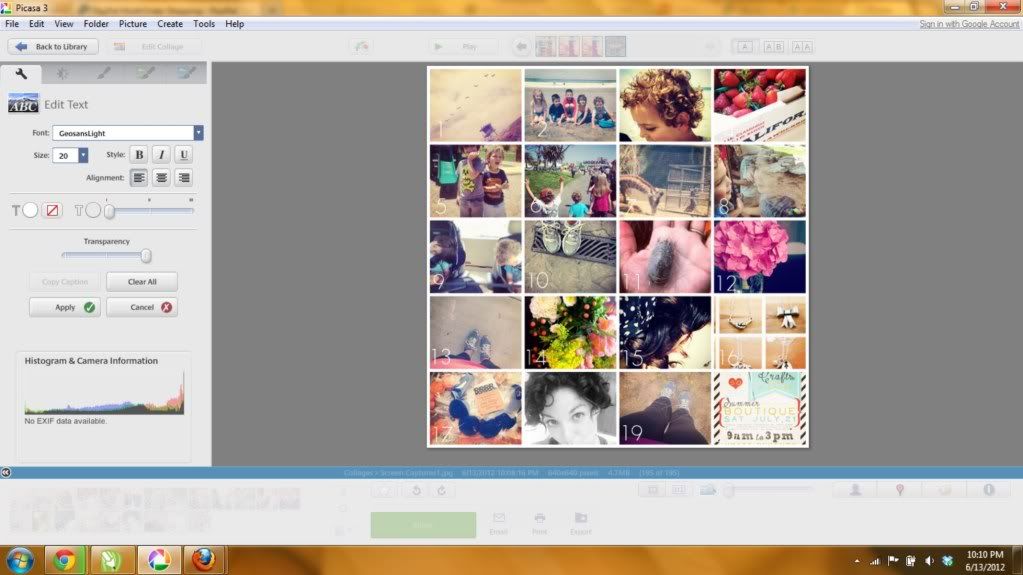 lastly, make sure you know where your collage is saved. the first few times i made one it took me forever to figure out where it went! i just right click on the collage and then click "locate on disk."

then i can see right where it is and move it to an appropriate folder if i need to. the default on my computer is to be saved under "my pictures" then "picassa" then "collages."

and there you have it!
now, i realize this is a very basic run-down — and there is so much more to explore in picasa, but it's a good start! let me know if you have any questions :)
come back tomorrow for the full instafriday run-down… and hopefully you'll join in with your very own collage!